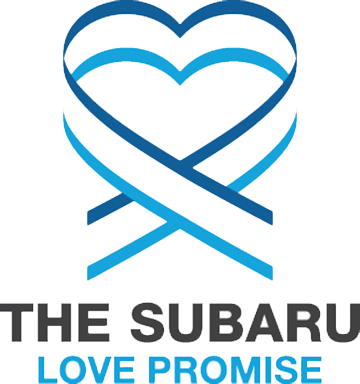 What is the Subaru Love Promise?
Subaru and our retailers believe in making the world a better place and the Subaru Love Promise is our vision of respecting all people. This is our commitment to show love and respect to our customers and to work to make a positive impact in the world.
How is Milford Subaru dedicated locally to the Love Promise?
Our Love Promise can be seen in various partnerships with local charities and non-profits. We're grateful for the opportunity, not only to be a part of our community, but to serve it as well.
Love Promise Stories from Milford Subaru
Subaru and Milford Subaru believe in making a positive impact on the communities in which we live and work. We uphold that belief through our Love Promise Community Commitment. Every month, we select inspiring stories from customers and partners from around our area who strive to support our collective commitment and feature them here
Subaru Loves To Help Feed New Hampshire Families - Carolyn M
When the pandemic first began Subaru and their local retailers, like Milford Subaru, took action to support Feeding America and member food banks nationwide responding to the COVID-19 crisis. In their continued commitment to support people affected by the pandemic, Subaru of America, Inc. and their local retailers have committed to providing an additional 100 million meals to Feeding America. Our sincere thanks to Milford Subaru and all of the Subaru's retailers here in the Granite State for their local efforts to support the NH Food Bank and our communities experiencing hunger. No one should have to worry about where their next meal is coming from and thanks to Subaru's generous support, we can help ease that burden during this difficult time.
---
Keeping NH Warm - Meghan B
In a time of crisis, Milford Subaru has taken it upon themselves to help their community. Milford Subaru reached out to Nashua Soup Kitchen & Shelter with a large donation of blankets to be given to clients in need. NSKS's community outreach team gives out hundreds of personal care items each winter, keeping our neighbors safe. These blankets will be given to those experiencing homelessness, keeping them warm through the winter. Blankets are frequently requested as they often become dirty or wet while outside. Thank you to Milford Subaru for their amazing donation! Please know both NSKS and our clients appreciate your efforts.
---
Subaru Loves and Saves all Pets - Laurie D
Meet Willie, an adorable kitten who was saved and is thriving thanks to the generosity of our volunteers and supporters like Subaru. His mom was a feral cat and this means Willie would have grown up in a feral cat colony. These cats live outdoors, never in the warmth and safety of a home, and never trust or interact with humans. Willie was found, safely brought to us, and received needed veterinary care and vaccines. When he was old enough he was neutered for his health and well-being too. Our staff and volunteers spent countless hours with Willie over 5 full months to gain his trust and show him that people are okay. It's a process that takes patience and time. Donations from Subaru Loves Pets helps those animals in our care at the Humane Society, like Willie, who are with us for many months because they need our protection, veterinary care and compassion for an extended time until they are ready for a new home and family. Willie was adopted by one of our amazing volunteers. The two had a special bond and trust, and Willie is thriving in his new home. He has two adult cat siblings and one laid back golden retriever to play with and learn from in his forever home too. His family says "Willie has changed the atmosphere in our household. The kitten is always buzzing around, and we could not be happier to have him as part of our family!" Thank you, Subaru, for all you give to support both the cats and dogs in our shelter in Nashua and nationwide to support homeless animals. Your donations save countless animal lives who can then be adopted and make families complete.
---
"Share the Love" Helps Rescued Golden Retrievers - Laurie D
The Humane Society for Greater Nashua (HSFN) is humbled to be Milford Subaru's partner for their Annual Share the Love Campaign. In the 4 years of this partnership over $105,000 has been donated to support our pets here. Its' provided veterinary care and shelter for the 4,300+ pets that we've adopted in four years, as well as provided a safe place for the 1,163 stray animals we've taken in. In 2019, funds helped us in the rescue of 105 Golden Retrievers and Labrador mixes from a hoarding/breeding situation. Due to the squalid conditions, personnel from two shelters, the local PD, and the NH State Veterinarian's Office removed the dogs. They were brought to two shelters for medical care, recovery and eventually adoption. Forty-nine dogs came to our shelter in Nashua and included four pregnant moms who soon gave birth to 31 puppies! In total, we had 80 dogs from this rescue! They arrived in varying emotional states and their physical condition was unhealthy. Many had ear infections and skin issues from lying in feces and urine. None of the dogs had a name and none had ever walked on a leash. They did not know how to play and had very little socialization. Recovery and readjustment took a long time. Thanks to our donors and Share the Love funds, every dog received the specialized care (and spay/neuter surgery) needed from our veterinary team, as well as lots of work and training with our Certified Dog Trainer. They also received lots of love, compassion and fun play-time with our adoption counselors and volunteers. Now one year after the rescue, all but one of the 80 dogs have been adopted. Our team continues to work with Johnny, and we will happily love and care for him until his perfect family and home situation comes along. Johnny has some special needs. You can learn more about him on our website, www.hsfn.org/adopt/available-dogs/ Thank you Milford Subaru, Subaru owners, and Subaru of America for supporting the Share the Love Campaign and helping us give these 80 dogs a second chance at a happy and healthy life!
---
Grateful to all who "Share the Love" for Animals - Laurie D
At the Humane Society for Greater Nashua we help pets and people every day. In 2018, we cared for nearly 2,200 animals in need, through our adoption services and low cost clinics, and thousands more people when you consider the families associated with these pets. No animal ever enters or leaves our shelter without a person associated with them. Our friends at Subaru understand pets are cherished members of our families and bring much joy and happiness to families of all sizes. The money received from the Share the Love program helps pets, cats, dogs, rabbits and small animals without homes get the veterinary care, food, love, behavior training and support they need from our team of staff and volunteers until we can match them with a new, loving family. Some pets need just need a warm, safe place to stay but others come to us with serious life-threatening injuries or illnesses and we invest thousands of dollars of surgery and rehabilitation to enable them a second chance at life. We can do that thanks to generous donors like Subaru and their customers. Share the love monies saved Solo. He was just 4 months-old when he came to us. Upon examination, our Shelter Veterinarian suspected Solo had a congenital heart defect that without treatment would have likely ended his life within his first year. Thanks to Subaru, we were able to access life-saving cardiac surgery for Solo. This happy puppy healed and was adopted into a wonderful home. He is living a great and happy life, and his family tells us he gives them so much more laughter, comfort and happiness in return. Solo was one of 1,120 animals we adopted out last year and 228 stray pets that we were able to reunite with their owners. Thanks to all those who help us help and connect pets and people every day. We could not do the important work we do without you!
---
Our Pets Say Thank You for the Love! - Laurie D
The pets at Humane Society for Greater Nashua are very fortunate to be the local beneficiary of the Subaru Share the Love campaign. Like us, Milford Subaru understands the vital role pets have in our families and supports the work we do to help homeless pets in need and adopt them out to new, loving homes. In 2017, our counselors adopted 1,148 pets (breakdown = 517 cats, 60 small animals and 571 dogs). We took in 298 stray animals, and we were able to reunite 217 of these lost pets with their concerned families. We also took in 291 owners surrendered pets in 2017 and connected them with new families. Beyond the numbers are the special adoptions and 3 years old Husky, Kya, was one of many. She arrived to us with mammary cancer. Curative treatment was not an option. Her cancer was too advanced and she likely had 10+ months to live. We took her in and provided treatment and medication to manage her pain. With comfort care, we knew she could live out a happy and fulfilling life. Kya is such a sweet, loving pup, and we were determined to give her a chance to live! We adopted her to a local family through our "Hospice Program". This family was amazing and they loved having Kya and so did her pup brother Kaiser. Kya and Kaiser spent many fun days in daycare playing and romping with other dogs, enjoyed lots of long walks and special peanut butter treats. Kya passed away at home with her family this past winter. She was taken too soon, but boy did she live an amazingly full life of love and doggie fun at the end of her life! The generous support from Milford Subaru and customers through Share the Love helps hundreds of local pets awaiting adoption here in southern New Hampshire. Some pets like Kya need specialized medical care and others simply need routine vaccines and spay/neuter surgery, but thanks to the kindness of those at Subaru, we are able to help pets in need at all stages of life. Every pet deserves a loving home and family. You can learn more about our Humane Society and all of our animals at hsfn.org.
---
Spreading Warmth and Love to those fighting cancer - Amy H
On 07/17/2017, the team at Milford Subaru delivered blankets and craft kits to St Joseph Hospital as a part of the Subaru Love Promise initiative in partnership with the the Leukemia and Lymphoma Society. These items, along with cards of hope from Milford Subaru clients really do help to spread warmth and love to cancer patients. Thank you Milford Subaru for your generous donation!
---
Ledge Street School Garden! - Carol E
Ledge Street School received a donation from Milford Subaru for our school garden. Since we do not have a budget, we are pleased to have been selected as the recipient of this gift. We received seeds, tools, a gift card, bird house and bird bath among other donations. We will be able to replace a broken wheel barrow and we will be able to plant around the school entrance. The garden not only teaches children about gardening and science, but it also teaches responsibility. We have planned for each student to plant seeds in a container to take home to spread the Subaru love even further. Thank you so much. Carol Edmonds Libby Crocker Teresa Ferullo and the Ledge Street School staff
---
Thanks for "Sharing the Love" to Help Pets in Need - Laurie D
The Humane Society for Greater Nashua is not only a thriving animal shelter, but we're a human services agency as well providing services for the health and well-being of our community and animals. We are the place where citizens bring stray animals or where families come to adopt a new pet. We're also the place where people can safely surrender their own pets, and where owned pets receive needed vaccines. We also rescue adoptable animals from overcrowded shelters in the south, where they are in jeopardy of being euthanized due to lack of space. We take in and care for 3,000 pets each year providing food, shelter and a full scope of medical care and treatment so these pets can live a healthy, happy life in their new home. The generous support from Milford Subaru and customers through Share the Love will help our animals receive medical care, behavioral training and the support they need while with us. One recent success is Kinko. He is a 2 year old cattle dog mix saved from Georgia. He had a severe and painful knee injury that cost over $5,000 to fix. Through the generosity of many, including our friends at Subaru, Kinko had his surgery and is going through physical therapy. Many donated and collaborated to help this special pup, and we're grateful to all! He's just been adopted, and we could not be happier for him! We're proud of our work and you should be proud of your role in it too. Without our supporters at Subaru, Kinko's story would not have had this happy ending.
---
Milford Subaru Loves to Care - Sheila C
Pictured Front row: Hope White, Office Manager for Milford Subaru; Kristin Fox, APRN; Cindy Murray, RN, Louise Popp, Deputy Executive Director, The LLS. Back row: Susan Hardy, RN and Jennifer Murphy, RN, Director of Oncology Services for St. Joseph Hospital. Milford Subaru. Send Well Wishes and Warm Blankets to St. Joseph Hospital Cancer Patients. Subaru of America and The Leukemia & Lymphoma Society (LLS) announced a collaboration to provide much needed support and 'warmth' to patients fighting cancer and their families in communities across the country. During Subaru Loves to Care month, Milford Subaru and LLS together provided blankets and messages of hope to St. Joseph Hospital patients undergoing cancer treatment. Visitors to Milford Subaru were given the chance to share personalized messages of hope to our patients, which were delivered alongside blankets to provide comfort and warmth as they continue their fight against cancer. Those who wrote a message of hope received a Subaru awareness bracelet to help spread awareness of LLS and Subaru of America's goal to provide hope and care, one gesture at a time. "Through our Subaru Love Promise we aim to make the world a better place and our dealership cares deeply about giving back in our local community," said Hope White, Office Manager for Milford Subaru. "We are proud to team up with The Leukemia & Lymphoma Society for Subaru Loves to Care month to help provide care and support to patients battling cancer.
---